1 loaf crust French bread
1 stick butter
3/4 cup cheddar cheese, grated
3/4 cup Monterey Jack cheese, grated
1/2 grated Parmesan cheese
1/2 cup real mayonnaise
4 green onions, white and light green parts minced
Dash of salt
4 cloves garlic, finely minced.
Mix cheeses with the mayonnaise and the green onions. Add dash of salt to taste and set aside or keep in fridge until you need it.Cut loaf of bread in half, then each half into half again.Working 1/4 loaf at a time, melt 2 tablespoons butter in a skillet and add 1/4 of the minced garlic.Place 1 of the 1/4 loaves face down in the skillet, swirling it to soak up the butter and garlic. Allow bread to toast in the skillet, removing garlic if it starts to get too brown.Repeat with remaining butter, garlic, and bread.Spread cheese mixture on warm loaves and bake in a 425 degree oven until cheese is hot and bubbly, about 10 minutes.Slice and serve.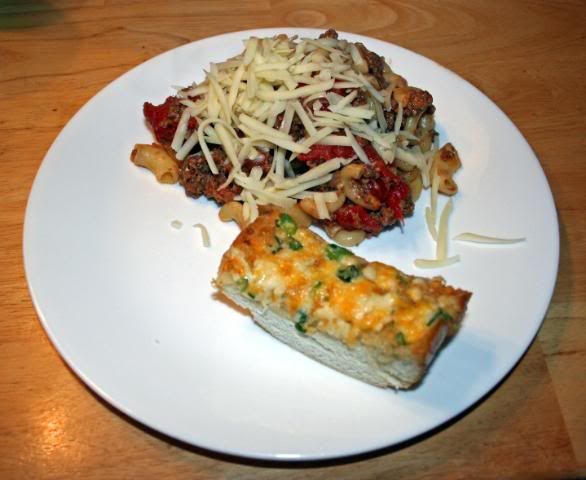 2 tablespoons olive oil
2 pounds ground beef
1/2 large onion, diced
2 cloves garlic, minced
Salt to taste
Freshly ground black pepper to taste
1 generous teaspoon ground thyme
2 14-ounce cans whole tomatoes
1/4 cup freshly grated Parmesan cheese, plus more for sprinkling
1 1/2 to 2 pounds rigatoni

Heat olive oil in large skillet or pot over medium-low heat. Add onion and cook a couple of minutes, until starting to turn translucent. Add garlic and stir, cooking 1 minute, making sure not to brown the garlic.Add ground beef and cook until brown. Drain most of excess fat.Add salt, pepper, and ground thyme. Stir to combine.Dump in canned tomatoes with their juice. Stir, reduce heat to low, and cover pot. Cook for 30 minutes, stirring a couple of times.Uncover the pot and cook an additional 30 minutes.Cook rigatoni according to package directions—don't overcook! Drain and place individual portions into bowls.Stir in 1/4 to 1/2 cup grated Parmesan into the sauce. Check and adjust seasonings. Ladle sauce over cooked pasta, sprinkle with more Parmesan, and serve.