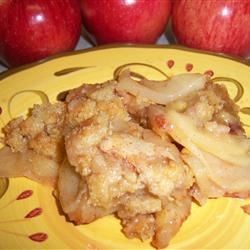 I was given the task of making THE apple crisp for the Hastain thanksgiving... it is a tradition and I think it turned out fantastic...(I even tweaked it but don't tell grandma!)
Filling:
5-6 apples, cored and peeled (I used Roma)
1/3 cup water
2 Tbsp. brown sugar
1/4 tsp nutmeg
1 tsp. cinnamon
Place apples in a greased 9x13" pan. Mix water, brown sugar, nutmeg and cinnamon until combined and pour over apples. Set aside.
Crust:
1/3 cup butter
1 1/2 cup flour
1/1/2 cup sugar
1 1/2 tsp baking powder
1 egg plus 1 egg white
1/2 tsp salt
Mix above ingredients except the butter in a large mixing bowl with a fork or pastry cutter until crumbly. Sprinkle crust over apple mixture. Melt the butter and pour evenly over crust. Sprinkle cinnamon over the top and bake at 350 for 30 minutes, then turn the heat up to 400 and let bake an additional 10-12 minutes.
I find that giving it the additional time at high heat really caramelizes the apples and browns the top nicely. Enjoy warm with whipped topping or ice cream!