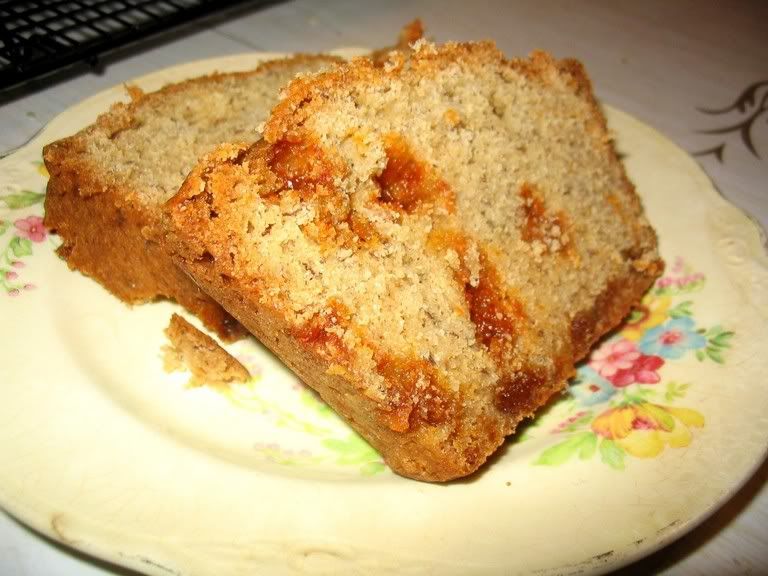 I'm always looking to one-up my recipes that I have on hand. I have about 3 or 4 go to banana bread recipes I use but this one just blows them out of the water. The butterscotch really sweetens up the bread - it's more dessert then bread I guess you could say...but that's what I like. This bread is dense but also light at the same time, which I would say is a perfect balance. I lightened the caloric and fat load which makes me feel just a tad better after I eat the entire loaf myself.
1/4 c. butter (softened not melted)
1/4 c. low fat sour cream
1/2 c. sugar
1/2 c. brown sugar
2 egg whites
1 1/2 tsp. vanilla
2 tsp lemon juice (didn't have so I squeezed fresh lime)
1 c. browned bananas, mashed (about 2 1/2 lrg ones or so)
1 3/4 c. flour
1 tsp baking soda
1 tsp baking powder
1/2 tsp salt
3/4 c. butterscotch chips
Preheat oven to 350 Grease 1 or 2 bread pans (I made 2 half loaves)
Combine the softened butter, sour cream and sugars. (Do not use mixer it will take away from natural denseness of bread) Add the egg whites and stir well after each addition. Add vanilla and lemon juice. Add mashed bananas, stir well until combined. Add all the dry ingredients to the mixture and stir until just blended (do not over stir, it's the dang gluten I tell ya!) Lastly add the chips and fold in gently. Pour the mixture into pan(s). Bake for 35-40 minutes ...check inside w/ toothpick or dry spaghetti noodle. If not clean stick in for 5 more minutes.
Now praise the brown banana gods and try to share with others.